Modern performance engines have special requirements as far as ignition lead design / construction is concerned. This is especially seen in Group A Sport Sedans, NASCAR, Speedway, Rallying and Drag Racing. Ignition leads for these and other high performance engines place high demands on the electrical system
Consequently, ignition leads must be able to deliver the following requirements:
High spark power - to ignite different fuel mixtures

Good insulation properties to effectively carry very high spark voltages

Robust construction with excellent longitudinal strength

Good terminal connections to ensure positive connections to the spark plugs

An ability to operate under extremely high operating temperatures

Depending upon application, an ability to suppress radio frequency interference

Available in Gloss Red, Black and Blue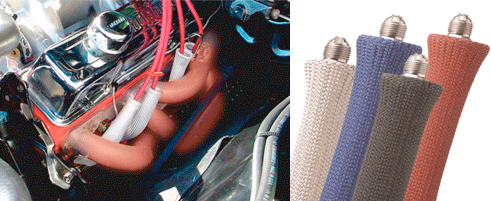 The Top Gun Heat Socks have been designed to offer high temperature protection up to 1,200ºF in an easy slip on sleeve that will extend the life of your ignition leads by protecting them where they need it most at the spark plug which is the closest point to the exhaust manifold. Top Gun Heat Socks are completely non-conductive, resist all engine chemicals, will not support combustion and provide an easy, economical solution to the challenge of wire protection in any high performance engine compartment.
Available in 4 colours
Part# - Colour
HSNT - Neutral
HSBL - Blue
HSBK - Black
HSRD - Red
The PRO RACING SERIES range features a SPIRAL WIRE conductive core that is inductively suppressed, they are suitable for most applications where RFI suppression is important. As such, this product is suitable for engines that run Computer Engine Management, MSD Ignition, Pulse Tachometer and Revolution Limiters.